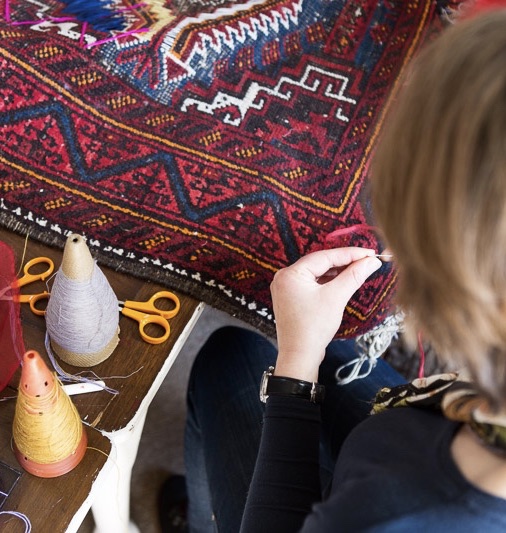 "Anatolia" – an embroidered carpet wall hanging
"Anatolia" – an embroidered carpet wall hanging
In 2015 I helped a friend dress his house for sale by lending him a number of carpets. We eventually rejected this one as it was very worn and dirty. The centre section pattern of "Anatolia" had completely disappeared, revealing only flat, brown, cotton warp threads. 
The carpet lay in my studio for weeks. My foot kept catching it whenever I walked past. So, one day, I lifted the heavy carpet and hung it on the wall.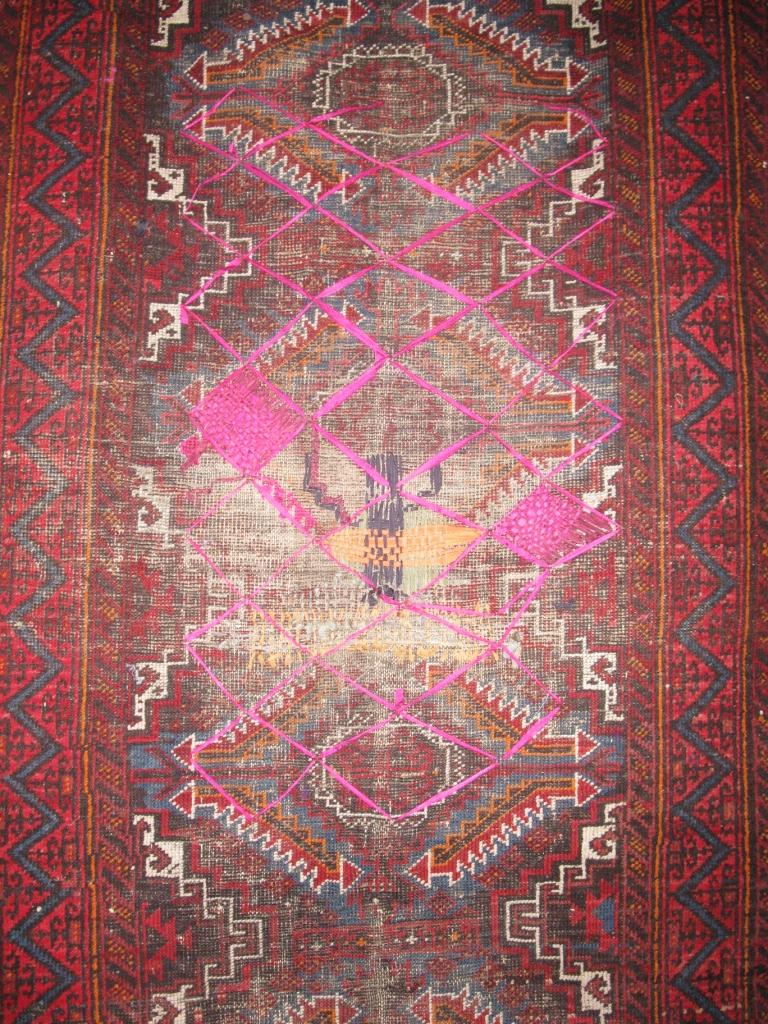 The idea of working into the bare surface happened naturally. Although very sore on my fingers, I was pleased by this way of working, hand sewing through the surface with wool yarn and hand-dyed silk. I really wanted to put "Anatolia" under my sewing machine and stitch through it, but was terrified of ruining the machine. "Anatolia" was very heavy, the surface was tough and breaking numerous needles was a real possibility.
The desire to machine sew prevailed, however, and the resulting effect was pleasing. "Anatolia" was now showing a good contrast of surface textures.
During the process, I wondered, am I the first to make a utilitarian carpet into a work of art? I searched the internet and discovered David Chalmers Alesworth, an artist who re-embroiders carpets with new patterns of famous gardens. David describes the process like "chiselling marble". I agree. This is why the "Anatolia"embroidered carpet wall hanging is taking so long to complete. It's just so hard on your hands.
I creatively compared my work to David's. The thought struck me, "Look how different our outcomes are." This raised my spirit and gave me the energy to carry on.
It's taken two and half years to get to this point and "Anatolia" is not quite finished but very close. Here are some images that show the progress. 
For other examples  works in a textural embroidered style, please see Millennium Kilt series.